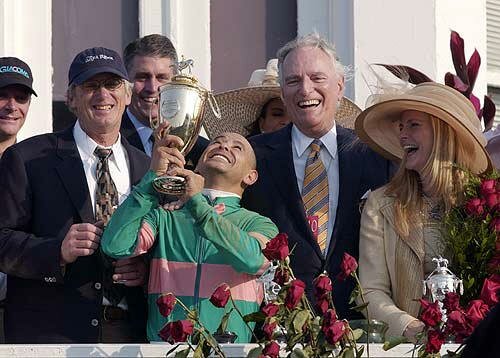 It takes a team to produce a Kentucky Derby winner - from the breeders' initial mating, through the foaling on the farm, and then finally to the racetrack. Once every spring, one team made up of jockey, owner, trainer and breeder realizes its dream in the Kentucky Derby Winner's Circle at Churchill Downs.
Kentucky Derby Winners
A summary of Kentucky Derby winners and their connections. This list includes horse, sire, breeder, owner and trainer, plus the winning odds and post time favorite for every Kentucky Derby.
Kentucky Derby Breeders
The breeder of a Kentucky Derby winner had the foresight to make the perfect match. This list includes the most prolific breeders of Kentucky Derby winners.
Horses of the Kentucky Derby
Sixteen different categories, from birthplace to post position. A quick reference guide for answers to Kentucky Derby trivia questions.
Jockeys in the Kentucky Derby
Jockey stats, including the youngest, the oldest, female jockeys, most mounts and most wins.
Owners of Horses in the Kentucky Derby
The owner pays the bills and guides the franchise. This list of 10 owner categories includes most wins, most starters, and family connections.
Kentucky Derby Trainers
The coach. The person who conditions the horse. Seven categories, including consecutive wins, youngest trainer, and most wins by a single trainer.